This story was originally published on  West Virginia Executive
Steve Jobs once said, "The artistry is in having an insight into what one sees around them. Generally putting things together in a way no one else has before and finding a way to express that to other people who don't have that insight."
Alban Arts Academy, operated by the Alban Arts Center from its historic headquarters in St. Albans, WV, is offering students of all ages an opportunity to develop that insight through arts education.
The Alban Theater, built in 1938 as a movie house, was renovated in 2008 under the guidance and direction of Mayor Richard Callaway and Adam Bryan, community and economic development coordinator for the city of St. Albans. The renovations were made to create the new Alban Arts and Conference Center, a nonprofit organization dedicated to further developing the local community through the arts and arts education. Bryan was named as the new director and manager of the Alban Arts Center, and in 2010, he announced its first theatrical season and launched the first semester of the Alban Arts Academy. The academy has since provided high-quality, hands-on arts education to more than 900 students of all ages and backgrounds from all over the region.
Since its inception, the academy has offered a wide variety of courses for every level and style, including more than 150 courses in acting, improvisation, dance, stage craft, fine arts, sculpture, directing, animation, puppetry, musical theatre, play writing, creative writing, film making, auditioning, programming, stage movement and theatrical makeup. Originally funded by an education grant, the Alban Arts Academy now operates on course tuition, private donations and student-centered fundraising events and has funded more than $20,000 in need-based scholarships to its students.
Beginning this fall, the academy is further expanding its outreach to offer classes at three different locations: the original location in St. Albans, a studio space in Teays Valley and the newest location in Kanawha City. Classes usually consist of a small group of students with similar skill and experience levels working under the guidance and direction of a local professional artist. Each semester, the academy employs an average of 10-12 active artists from the area to share their unique skills and knowledge with its students. The classes are all highly interactive by design, and students work with their teacher throughout the 12-week semester to produce an exhibit piece, whether fine or performance art, to be showcased at the end of the semester for the public.
"The Alban Arts Academy offers students a fun and friendly learning environment where they can develop and exercise creative thinking and advanced problem solving skills," says Jill McLaury, director and owner of Bright Futures Learning Services Inc., whose daughter is a student at the Alban Arts Academy.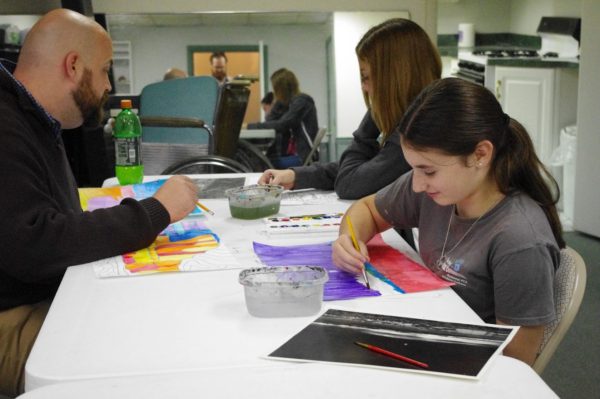 More than just learning about an art form, though, academy students are often tasked with solving very complex problems associated with producing their art. Students learn planning, organization and time management skills, as well as the importance of both individual responsibility and team work. Leah Turley, the education programs coordinator for The Clay Center for the Arts and Sciences and education and outreach coordinator for the Marshall Artists Series, teaches a course in advanced acting at the Alban Arts Academy. "These are universally invaluable skills that translate directly across our economy from the arts to business and education and into our personal lives," she says.
Bryan has seen a number of students enter the academy struggling to perform academically who have used the skills they learned to turn things around. "Some students have issues with social skills or a lack of self-confidence, but after a semester or two in the academy, they improve their GPAs, learn to interact with people and make friends and, most importantly, they start to develop the self-confidence to pursue and succeed in any field they desire," he says. "Arts education is critical to developing the skills needed to succeed in our constantly evolving work force."
About the Author
Loren Allen is general counsel and director of government relations with the West Virginia Bankers Association. He lives in Charleston with his wife and two children and volunteers his time as president of the Alban Arts Center's board of directors.