Charleston's best dining options will be greeting and seating an influx of hungry guests next week as the city's fourth annual Charleston Restaurant Weeks kicks off. Spanning January 23-28, the annual event has experienced tremendous growth each year, and 2017 promises to be no different.
Each participating restaurant is offering a number of three course meal options (appetizer, entree and dessert) for $30. Participants include Adelphia Bar and Grille, Adventures Bar and Grill, B&D Gastropub, Bluegrass Kitchen, Bridge Road Bistro, Celsius, The Chop House, Ichiban, Mi Cocina de Amor, Paterno's at the Park, Soho's, South Hills Market and Cafe, Tidewater Grill, Quarrier Diner, The Block, Bricks & Barrels, Su Tei, Dem 2 Brothers and a Grill, Leonoro's Spaghetti House, and Laury's. The Chop House and Adventures Bar and Grill are new to the lineup this year, which now boasts better than a dozen options.
Menus are available on the event website (available here), and reservations are strongly recommended. Appetizers range from traditional options like soup and salad, plus other choices (like the famous Deep Fried Feta at Adelphia Sports Bar & Grille). Entrees include plenty of steak, seafood and pasta choices from some of the best restaurants in town. Desserts range from cake, cheesecake, and ice cream to torts, mousse, and parfait.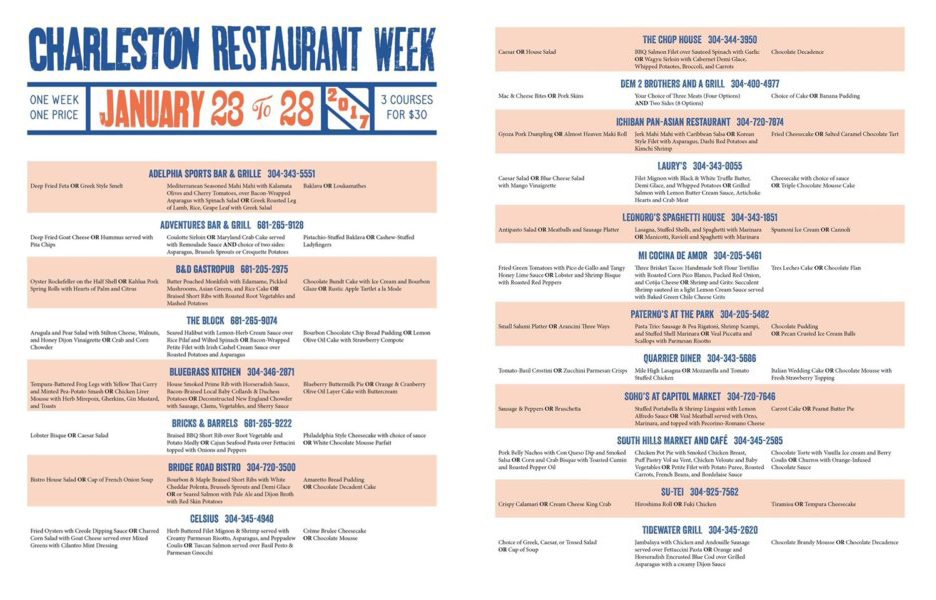 Follow the Charleston Restaurant Week Facebook page (available here) this week for more information, and for an opportunity to win free meal vouchers. Meal vouchers can also be purchased in advance on the event website, but only through Thursday, Jan. 19.