Mardi Gras, for me, has always meant fun with my family and friends, good food and fellowship, a connection to my grandfather's hometown of New Orleans and a celebration with my loved ones with some King Cake and few strands of beads. It still means those things to me, but now the party looks a little different.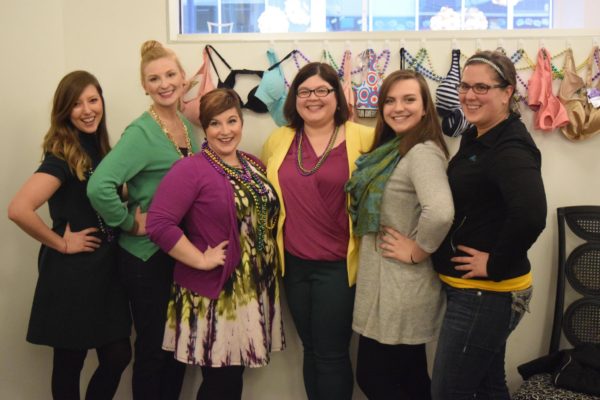 You see, my girlfriends and I have a continuous group message—as many of you do with your friends and family—a place to share the joys and annoyances of the day, send funny pictures and share articles that interest us.
That's how Mardi Bras came to be. On a random January day several of us read an article in our Facebook newsfeeds about homeless women and a lack of access to personal care items. Shelters often have to ration tampons and pads, because their supplies are so low. The author of this particular article said she put some of those items, and other personal care items like deodorant, in an old purse and gave them out to women on the street. My friend Morgan asked in our group chat if we should do something like that. Could we make it into a donation drive for the YWCA, a group all of us had volunteered for and donated to in the past? Mardi Gras was coming up, and we often got together for that. Could we use that as a good hook, call it Mardi Bras and collect some items? We expected to have some success, at least amongst our closest friends and acquaintances.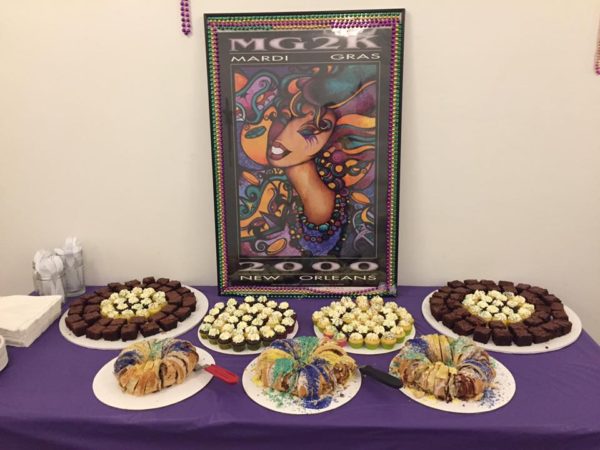 That evening we planned a donation drop-off party at Petra's cake shop, Cakes By Appointment; created a Facebook event with the following message and sent it out to our social networks:
"With a growing homeless population of women and families, the need to 'support' ladies with appropriate undergarments is also growing. With the fun of Mardi Gras approaching, we—a group of girlfriends convinced they can change the world—are kicking off 'Mardi Bras for a Cause,' a collection drive for new bras, underwear and personal care items for girls and women.
Women experiencing domestic violence and subsequent homelessness often arrive at shelters with little more than the clothes on their back and rely on donated items to get back on their feet. Bras and underwear are some of the most needed, and least donated, clothing items for women, while personal care needs like sanitary napkins and tampons are also greatly needed but rarely donated.
We are asking you to support your sisters with new bras, underwear and personal care items in support of Mardi Bras!"
The response was overwhelming. The generosity of our friends, family, neighbors and strangers produced enough donations to fill a box truck. So we planned year two of Mardi Bras, and the generosity of the community again brought in enough donations that the SUV that came to pick up the items had to make multiple trips. These items are needed year-round, so if you couldn't join us for the drop-off party, you can still donate items or make a monetary donation.
It's amazing what a group message, determined women and the generosity of a community can accomplish. We plan to host Mardi Bras for A Cause every year until there is no need for us to do so. We'll see you next year. Let the Good Bras Roll.
Article by Megan Tarbett, on behalf of Mardi Bras for A Cause organizers Ashley Alford, Maria Belcher, Jen Wood Cunningham, Laura Martin, Morgan Robinson, Megan Tarbett and Petra Vasale
All donations are provided to the YWCA Charleston in support of ladies at the following shelters: YWCA Sojourner's Shelter for Homeless Women & Families and YWCA Resolve Family Abuse Program. The YWCA Charleston is dedicated to their mission of eliminating racism and empowering women and promoting peace, justice, freedom and dignity for all people. For details visit them at ywcacharleston.org.
[satellite gallery=14]