Times were different in 1964—and so was the area in South Charleston known as Rock Lake.
After parking the car, I would walk under the railroad tracks through the tunnel. It was always cooler inside the 100-foot-long tunnel. It would set the mood for the day. As I came out the other side, I could see the 60-foot rock cliffs that formed two walls of the pool. Built after a rock quarry was abandoned and water started to pool in the basin, someone thought it seemed like the perfect location for a swimming pool—and they were right. Rock Lake Pool became one of the largest artificial concrete pools in the country, popular to West Virginians and visitors from surrounding states.
The pool was huge, almost eclipsing the water surface of some of the current water parks. It was bigger than a football field and had three water slides. The largest of the three was a 50-foot slide, and when you hit the water, you would skim along the top for 25 feet.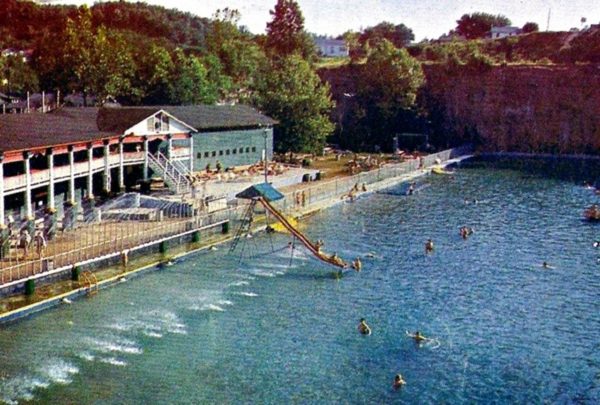 There were also water trampolines, fountains and two trapezes you could get to if you climbed up the stairs along the rock walls. One was so high that if you hit the water wrong, it could have killed you (a liability nightmare). If you desired, you could climb to the top of the quarry wall and dive from that point as well. I never had the guts for that. It was 60 feet off the water, but it seemed like more than double that. The pool had turnstiles to enter from the picnic area to the pool where you had to walk through a foot bath to get the sand off your feet. The pool was always crystal clear thanks to this. There was also a snack bar and a band stand area, which was always full on Saturday afternoons. That was back in the day when most everyone danced. It reminded me of American Bandstand in a bathing suit. There was not much alcohol, although some guys got it in. But it was never a problem.
I feel like kids today are getting ripped off because they are all channeled into organized sports with insurance rules that prohibit the imagination as to how they can have fun. I had some great times at Rock Lake—swimming, diving, dancing and meeting new people.
I would go today if I could.
Photos provided by Jerry Waters. Visit his site to see more of Rock Lake Pool