The Hub is expanding in 2017 – bringing on new staff, new programs and, in a few short months, moving into a new collaborative office space with two other community development groups in Charleston.
As reported by the Charleston Gazette-Mail, The Hub is teaming up with Charleston Main Streets and Generation West Virginia for a shared office space in the warehouse district of Charleston – about one block from Capitol Market.
At this new space, which is currently under construction and expected to be completed in the next month, The Hub will house half of its staff. We'll also host multiple VISTA for our statewide VISTA (Volunteers in Service to America) program, and we're providing space to an Appalachian Transition Fellow in collaboration with the West Virginia Center for Civic Life.
The Hub will also maintain its Fairmont office. We believe that maintaining two offices across the state is critical to continuing our efforts to serve as a statewide community development organization and be accessible to as much of the state as possible.
We're looking forward to the new Charleston space because it gives us room to continue to grow our staff, give us – for the first time – a public "street-side" presence for our organization, and will enable us to deepen our work with Charleston Main Streets and Generation West Virginia.
The Hub tries to walk the talk of collaboration in everything we do. We believe that partnerships and collaborations are the foundation to successful community development. We're excited to see what new projects and collaborations are born out of this shared office space!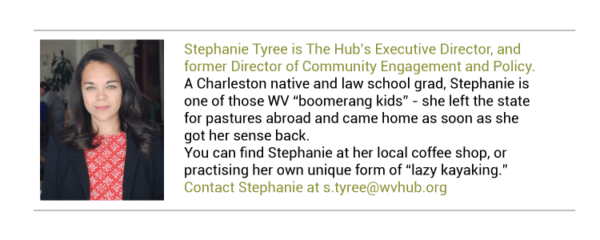 This story was originally featured in the West Virginia Community Development Hub's Blog